STUNNING BOUTIQUE HOTEL IN SURRY HILLS.
HIDDEN BEHIND CLOSED DOORS ON ELIZABETH ST. SYDNEY IS AN INTIMATE HAVEN FOR THOSE IN THE KNOW WHERE SOPHISTICATION AND PRIVACY REIGN SUPREME.
ART DECO-INSPIRED, ELEGANT SPACES AND ABSOLUTE DISCRETION INVITE YOU TO LEAVE THE MASQUERADE AT THE DOOR TO ENJOY THE FREEDOM OF TOTAL PRIVACY. WITH ONLY 38 QUIET SUITES, OUR TACTFUL SERVICE IS PERSONALISED TO YOU. RELAX WITH COFFEE IN OUR COURTYARD GARDEN, GAZE ACROSS THE LEAFY GREEN OF SURRY HILLS FROM OUR CHIC ROOFTOP, ORDER FROM OUR CAREFULLY CURATED DRINKS LIST, OR STEP OUT INTO THE HEART OF SYDNEY'S MOST CREATIVE NEIGHBORHOOD — SURRY HILLS.
ENTER INTO ELEGANCE IN OUR BOUTIQUE SURRY HILLS HOTEL
OUR GUEST ROOMS AND SUITES OFFER A DESIGN-CENTRIC GETAWAY FOR THOSE WHO APPRECIATE THE FINER THINGS. INDIVIDUALLY CRAFTED SPACES WITH A WARM YET VOGUE VIBE WILL MAKE YOU FEEL LIKE ROYALTY. WITH LARGE WINDOWS AND DREAMY BEDS, EACH ROOM IS A SANCTUARY OF CHIC DESIGN. YOU'LL FORGET YOU'RE IN THE HEART OF SYDNEY WITH OUR SUPER-LUXE BATHROOMS AND SOUNDPROOFING FOR ULTIMATE PRIVACY. COME AND BASK IN THE BEAUTY OF OUR ARTFUL SURRY HILLS HOTEL NEAR CENTRAL STATION, SYDNEY.
SIN UNDER THE STARS AT OUR BOUTIQUE SURRY HILLS HOTEL
SIX STORIES ABOVE DOWNTOWN SYDNEY, THE ROOFTOP OFFERS A PRIVATE VIP AREA WITH SWEEPING VIEWS OF THE SURRY HILLS URBAN PLAYSCAPE AND ICONIC SYDNEY CBD. ARRIVE AT DUSK TO SETTLE BACK WITH A DRINK AND WATCH THE SUNSET BEHIND THE MAGNIFICENT CLOCK TOWER. KEEP AN EYE OUT FOR A ROTATION OF DJS, BANDS AND GUESTS' MIXOLOGISTS WHO WILL MAKE YOUR NIGHT ONE OF THE BEST OF YOUR TRIP.
OUR PET-FRIENDLY HOTEL IN SYDNEY WILL SPOIL YOUR POOCHES
GET READY TO ROLL OVER WITH EXCITEMENT! YOUR DOGGIES ARE IN FOR A REAL TREAT WITH SPECIAL OPTIONS FOR YOUR POOCHES. ASK OUR STAFF ABOUT OUR PUPPY WELCOME DRINK AND DOGGY MENUS.
LOOKING TO EXPLORE THE NEIGHBOURHOOD WITH YOUR FURRY FRIEND? OUR DIRECTOR OF PET RELATIONS IS ON HAND WITH A LIST OF DOG-FRIENDLY CAFES AND RESTAURANTS IN SURRY HILLS. 
LET'S MAKE SOME MEMORIES (AND MESSES) IN OUR PET-FRIENDLY HOTEL IN SYDNEY.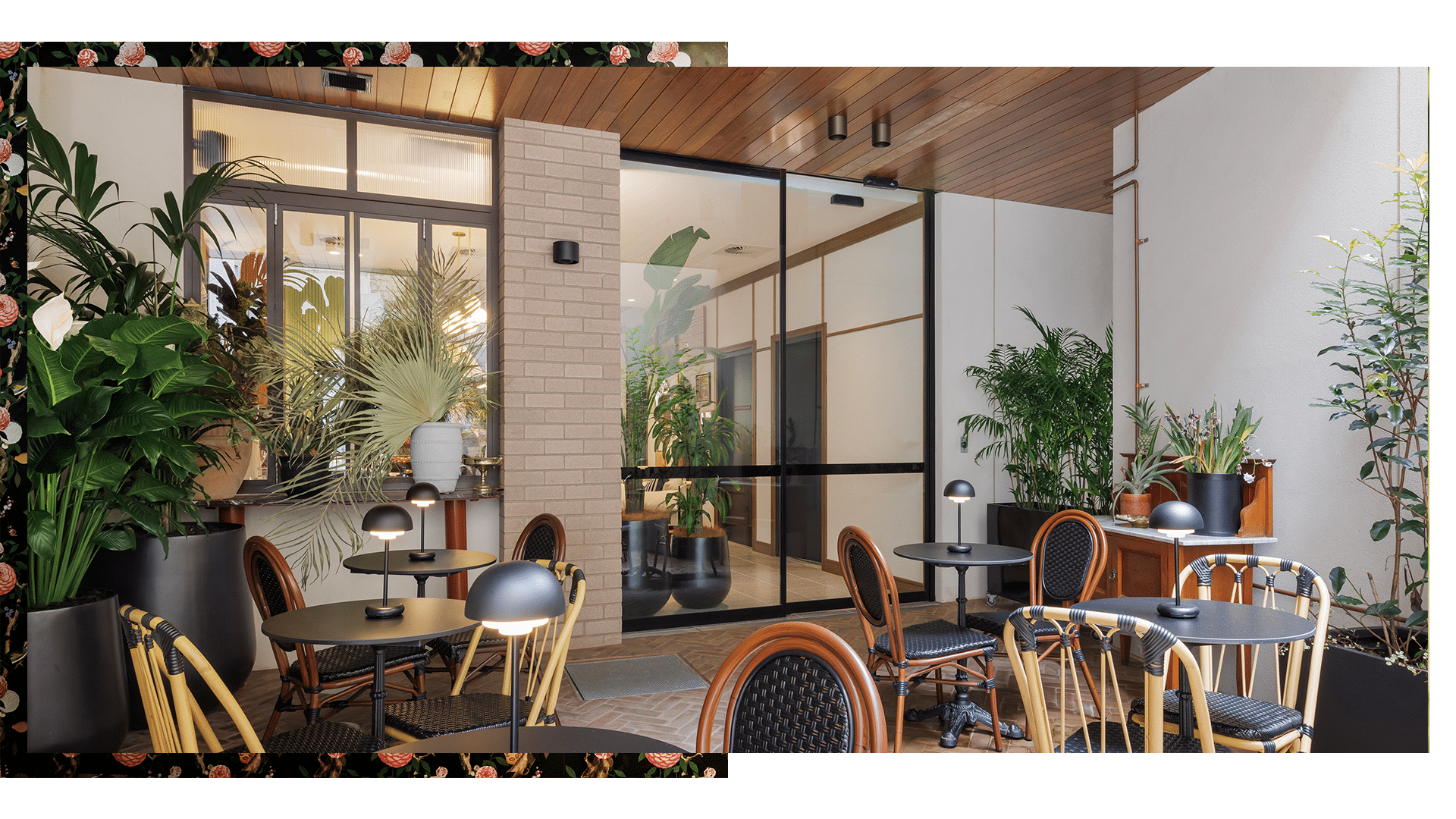 TAKE A BREAK FROM THE HUSTLE AND BUSTLE AND STEP INTO OUR PEACEFUL GARDEN RETREAT AT OUR SURRY HILLS HOTEL. OUR PRIVATE GARDEN, NESTLED IN THE HEART OF OUR COURTYARD, OFFERS A SERENE ESCAPE FROM THE BUSY STREETS OF SURRY HILLS. WITH COMFORTABLE AL FRESCO SEATING SURROUNDED BY LUSH GREENERY, IT'S THE PERFECT PLACE TO CATCH UP WITH FRIENDS, WORK IN PEACE, OR SIMPLY LOUNGE WITH A GOOD BOOK IN THE WARM AUSTRALIAN SUNSHINE. TO MAKE THE EXPERIENCE EVEN SWEETER, OUR GARDEN MENU OFFERS ARTISANAL COFFEE, A VARIETY OF FRESH COLD-PRESSED JUICES, AND DELICIOUS LOCALLY-MADE PASTRIES. COME RELAX AND REJUVENATE IN OUR LITTLE SLICE OF PARADISE.
DISCOVER OUR SUSTAINABLE ACCOMMODATION AT OUR BOUTIQUE HOTEL IN SURRY HILLS
WHY SETTLE FOR LESS WHEN YOU CAN STAY IN OUR SPACIOUS SUITES? IN ADDITION TO OUR PRIME LOCATION AS A HOTEL NEAR CENTRAL STATION, SYDNEY, WE CERTAINLY DON'T COMPROMISE ON OUR LUXURY AMENITIES. THE LIZZY IS POISED NICE AND PRETTY ON THE TOP FLOOR WITH A DOUBLE VANITY, WALK-IN RAIN SHOWER FOR TWO AND BATHTUB.
WATCH THE GLORIOUS SUNSET OVER OUR SURRY HILLS HOTEL'S LARGEST TREE-LINED BALCONY AT THE OXFORD, OR LIVE LIKE A LOCAL IN THE SURRY ROOM. OUR BOUTIQUE HOTELS IN SURRY HILLS DON'T FEEL COLD OR CLINICAL. AS SOON AS YOU ENTER, YOU'LL FEEL WARMLY WELCOMED IN THIS BEAUTIFUL SANCTUARY THAT FEELS LIKE A HOME AWAY FROM HOME. 
AND THAT'S NOT ALL — OUR SUSTAINABLE HOTEL IN SYDNEY INCLUDES VEGAN AMENITIES TO MAKE AN ECO-CONSCIOUS FOOTPRINT. 
WELCOME TO THE NEIGHBOURHOOD
STEP INTO THE TRENDY HEART OF SYDNEY AND EXPLORE THE CREATIVE HUB OF SURRY HILLS. WITH ITS ECLECTIC MIX OF VICTORIAN TERRACES, HIP BARS, STYLISH CAFES AND UNIQUE BOUTIQUES, SURRY HILLS IS THE PERFECT PLAYGROUND FOR ANY FASHION-FORWARD TRAVELER. THIS NEIGHBOURHOOD HAS IT ALL, FROM ORGANIC BRUNCHES TO NEW KICKS AND AWARD-WINNING RESTAURANTS TO LATE-NIGHT PARTIES. AND THE BEST PART? OUR HOTEL IS NEAR CENTRAL STATION, SYDNEY, CIRCULAR QUAY, BONDI BEACH, AND THE AIRPORT! 
BOOK YOUR STAY AT OUR BOUTIQUE HOTEL IN SURRY HILLS — 202 ELIZABETH
AT 202 ELIZABETH, OUR SURRY HILLS HOTEL HAS EVERYTHING YOU COULD POSSIBLY NEED UNDER ONE ROOF. FROM OUR CHIC HOTEL ROOMS TO OUR ROOFTOP OASIS, DELECTABLE GARDEN MENU AND PRIME LOCATION, WHAT'S NOT TO LOVE? AND BEST OF ALL, YOUR FURRY LITTLE FRIEND CAN COME ALONG FOR THE RIDE AND STAY IN OUR PET-FRIENDLY HOTEL IN SYDNEY. BUT WHY TAKE OUR WORD FOR IT? CHECK OUT OUR IMAGES GALLERY AND SEE FOR YOURSELF WHAT MAKES OUR SURRY HILLS HOTEL SO SPECIAL. 

SO WHAT ARE YOU WAITING FOR? COME JOIN THE FUN IN SURRY HILLS AND BOOK YOUR STAY TODAY. IF YOU HAVE ANY QUESTIONS, REACH OUT TO OUR TEAM, WHO WOULD BE HAPPY TO ASSIST.
6-minute walk to Central Station / 2.2 km to Circular Quay / 20-minutes to Bondi Beach / 20-minutes to Kingsford Smith International Airport
We think you're missing out on some special attention, sign up here to get some love from Lizzy